We welcome you to our website and value your association with our company
Krishna Copper Private Limited



Established in the Year 2008, Our company is engaged in varying fields and has a strong foothold under the able guidance of our CEO Mr. Mohanlal Jain (Chairman & Managing Director). His industry experience and knowledge has enabled us to overcome all obstacles and garner a vast client base accross the globe.

Krishna Copper Private Limited is a manufacturing company located at Valsad , Gujarat, India and spread across 3610 square meters and are best trusted partners for those who have regular requirements for :
ETP -DHP - Oxygen Free Copper
Brass Major grades
Bronze Major grades
Berrylium copper
Cadmium Copper
Chromium Copper
Sulphur Bearing Copper
Zirconium Copper
Chromium Zirconium Copper
Silver Bearing Copper
Tellurium Copper and
Many copper alloys
All above in various forms and shapes :
*****Ingots / Billets round for extrusion and forging
*****Hot rolled / hot and cold forged / extruded /cold drawn and hot rolled into :-
Plates / rods / strips / wires / foils / sheets / flats / sections / shapes / components/ parts / profiles / slabs etc.

We also have facility to give :
Tin/ Nickel / Silver plating As per the customers requirements.


Quality
Our products are in line with the Indian and International Standards, and are accordingly manufactured.
High Quality Copper & Copper Alloys available in the form of Strips, Rods, Flats, Sections and Squares is tested on the following parameters :
Some of these testing facilities include:
Loose ends & Frays
Hardness
Tensile Strength
Electrical Conductivity
Spectro & Bend Test
Surface & Edge Finish
Dimensional Accuracy
Resistance to Corrosion
Ultrasonic Test
Eddy Current Test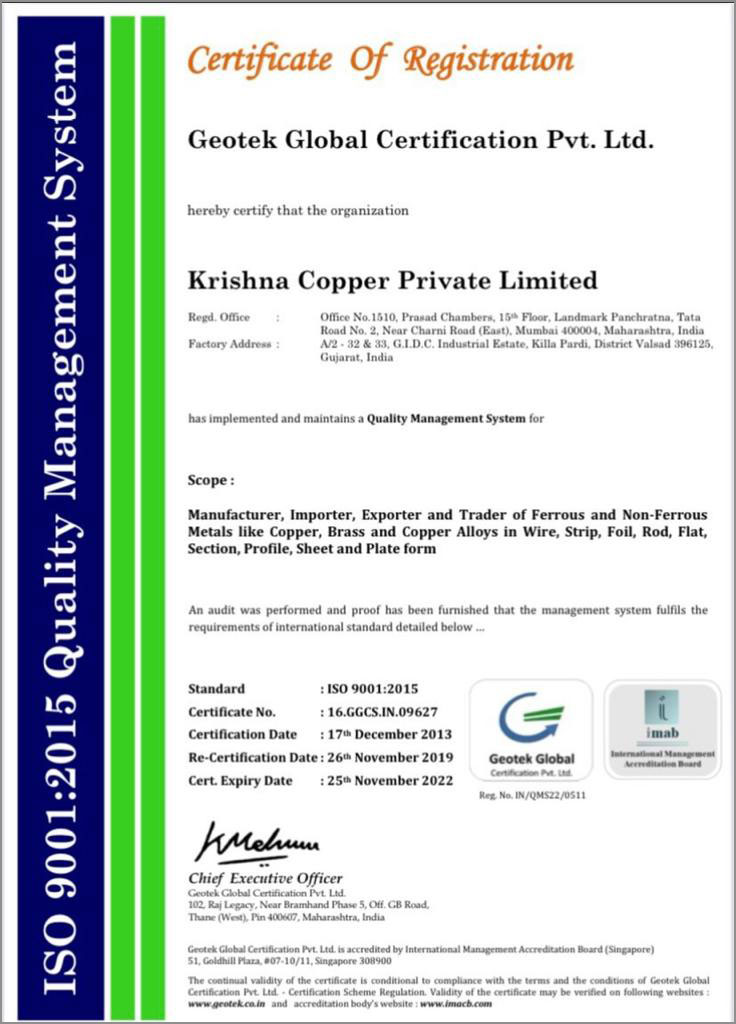 Infrastructure
Krishna Copper have various manufacturing facilities and state of the art infrastructure units sprawls across a vast area of 3610 SQ Mt. It has an installed capacity of 300 Tons per Month. And is designed as per the latest technology. The advance production process involves thestringet hard work of our engineers and enhanced working of the machines. The Machine installed at the units includes :
Hot Rolling Mill
Extrusion Press
Conform
12 HI / 4 HI / 2 HI Rolling Mill
Furnace Oil : Induction and Furnace Oil Based
Hydraulic Draw Benches
Annealing Furnace
Bending Machine
Punching Machine
Straightening Machine
Cutters Machine Mechanical Press
Grinding Machine
Always have a healthy, prosperous and happiest life :
Team Krishna Copper Private Limited.
www.groupkrishna.com
Www.kriscop.com